Journey of Flowers – From Field to Florist

Tuesday October 25th, 2016 – 8:00 am – 2:30 pm
Visit flower grower Mellano & Company in Oceanside
Visit the Sunroad International Floral Market in Carlsbad
Enjoy a delightful lunch with garden club friends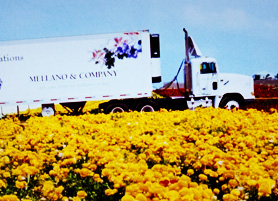 Mellano and Company is a leading cut flower grower, shipper and wholesaler in Oceanside.  Giovanni Mellano started his business as a wholesale distributor in 1925 in Los Angeles, but the growing operation was relocated in 1970 to San Diego County.  Today the farm consists of 375 acres with Giovanni's children and grandchildren running the operation.
They produce more than 7 million bunches of flowers and foliage and serve local markets as well as shipping nationally and internationally
Granddaughter Michelle will give us a tour of their operation, including a visit to one of their fields, and their packing and storage areas.
We will have an early start from La Jolla at 8:00.  We'll visit the growing area then drive to the International Floral Market in Carlsbad, where   many of the vendors will allow us to purchase flowers.  After all this we will have lunch at a nearby restaurant.
Be sure to wear comfortable shoes for walking on dirt.  Sign up at the September or October meeting or RSVP to
Ina Thompson at ina@rich-ina.com or Natalie Crain at nfcrain@gmail.com
 We will browse their flowers, greens, fillers and Protea.