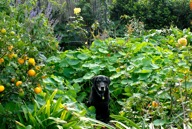 Linda Ryan, our immediate past President answers questions from Caroline Meade, while "Inky" runs in the wild garden that grew while Linda was away.
What was your biggest success in the garden?
There used to be a bank of tea trees shaped and boxed into a hedge.  Then Jim Stelluti pruned them and revealed their true beauty and character.
What was your biggest lesson?
Design of plantings has to take in country of origin, climate and natural habitat.  More than just sun vs shade, color texture and form.
What tool could you not live without?
Trench digger.  It is very narrow, not too deep, holds just what I can lift.  I can sink it into the earth easily and scoop out a small amount of soil.
From your window what is your favorite garden view?
From inside my garage I look through a tiny, paned door into the courtyard.  From there I see the secret garden path to the Thom Shepard designed gate with a bower over it and blooming stephanotis.
Thank you, Linda
As told to Caroline Meade