City Farmers Nursery – November 4 – 2015

Followed by lunch at Nate's Garden Cafe.
Time: 9:30 – 1:00   Carpool from church or Ina's house.
City Farmers Nursery advertises itself as a "Little Bit of Country in the Heart of San Diego and San Diego's Largest Organic Nursery since 1972."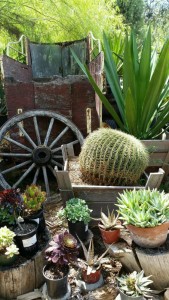 Whether one is interested in a variety of plants (California natives, herbs, vegetables, fruit trees, succulents, seeds, bonsai), beekeeping, ponds, chickens and cows, bird feeders or canning supplies, this place certainly has something of interest. Plus there's a coffee shop and Nate's Garden Cafe right on the premises!
Amiable owner Bill Tall will be happy to welcome us to his market, founded in 1972, and provide us with some of his gardening tips. Then we will be free to wander through the maze of plants, trees, pottery, "barnyard," indoor shopping area for seeds, gifts, books, kitchen supplies, feed and fertilizer, etc.
Here's their fun website:
If you would like to join us for this adventure, please RSVP to Ina Thompson at ina@rich-ina.com or (858) 551-9653.